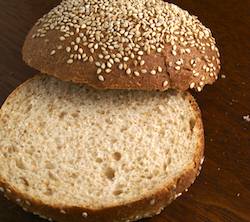 These rolls are quite a bit more substantial than the squishy cottony ones that seem, unfortunately, to be standard cookout fare. With about 40% whole wheat flour, the crust is chewy-tender, the crumb soft but still hearty and flavorful. And they're not just for burgers; they work for just about any sandwich. Sized a little smaller, they would also make fine dinner rolls.

Yield: 1000 g (10 hamburger-size rolls)



Time:



Mix/ferment the prefermented dough: 8 – 12 hours

Mix final dough: 10 minutes

First fermentation: 1 hour

Divide and shape: 5 minutes

Proof: 1.5 – 2 hours

Bake: 18 minutes

Desired dough temperature: 76F
NOTE: An instant-read thermometer is a good investment:
http://www.amazon.com/exec/obidos/ASIN/B000RPR9LQ/stockpilesrus-20



Prefermented Dough Ingredients:



171 g flour

111 g water

1 g (1/3 t.) instant yeast

3.4 g (9/16 t.) salt



Final Dough Ingredients:



164 g flour

246 g whole wheat flour

110 g (approximately) lukewarm water

4.1 g (1-1/3 t.) instant yeast

8.2 g (1-3/8 t.) salt

100 g (2 whole) egg

42 g vegetable oil

20 g sugar

29 g molasses or brown rice syrup

286 g (all of the above) prefermented dough



Method:





Prefermented Dough



Mix all of the prefermented dough ingredients by hand for a few minutes until the dough is smooth.
Cover and ferment for 1 hour at room temperature, then place in the refrigerator overnight.



Rolls



Cut the prefermented dough into about six pieces and add them to the bowl of a stand mixer with all of the other final dough ingredients (except reserving about 20% of the water).

Mix on low speed until the ingredients are incorporated, about 4 minutes. Add water as needed to give the dough a medium-soft consistency.

Continue mixing in medium speed until the gluten has reached full development

(check out the Gluton test below)

.

Ferment the dough at room temperature for 1 hour.

Divide the dough into ten pieces of approximately 100 g each.

Press each piece firmly to degas it, then shape into a tight ball. The easiest way to do this is to tuck the edges of the degassed dough under, pinch the seam closed, and cup your hand over the dough while rolling it in a circle against the unfloured countertop.

Roll the top of the ball on a wet towel to moisten it, then in sesame seeds.

Place the rolls on two parchment-lined baking sheets and press them down into discs with the palm of your hand.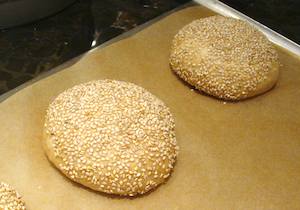 Cover the sheets and proof the rolls at room temperature for about 1.5 – 2 hours, until the dough springs back very slowly when pressed with a fingertip.

Meanwhile, preheat the oven to 380F. If your oven has a convection setting, use it (otherwise you may need to rotate the sheets halfway through baking to ensure even browning). You will also need steam during the initial phase of baking, so prepare for this now.

Bake for 8 minutes with steam, and another 8 – 10 minutes without steam, until the rolls are nicely browned.

Cool on a wire rack.
_________________
See your next secret

goldbox

deal
https://tinyurl.com/yywut3t9
Don't Miss our

Facebook

page
https://www.facebook.com/belowprices